Rick wrote:Nice plump looking guy - don't be afraid to ask questions and perhaps describe your set up, temps, type of lights, feeding regime etc. as it's possible we can help tune it all up for you.

rick
Here is his set up.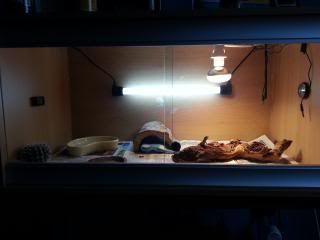 The temps are cool end 25C warm end 86F and basking area 102F We have the Habistat to control the temp of a night.
Is there anything you think we should change about his set up, put more in take stuff out.
He seem very happy in there. We feed him 3 times a day he roughly has about 15 crickets a time, sometimes he will eat more and the next meal won't want any or just a few, I take it he knows when he is full or hungry. He's not keen on veg the first day we got him he had a couple of tiny bit of broccoli, but that is the only veg he has had. Everyday we give him a mixture to see if anything takes his fancy. he always has a bowl of fresh water in there, i drip little drops of water on his nose now and then which he licks off. He loves his cactus and will very often sleep on it, usually with his head hanging down the back of it. I can't believe how comical he is, I just love him so much already.
We are trying to start to handle him but don't want to stress him, he loves having his chin tickled and will stand on my daughter Jordan's hand when she feeds him.
I am very grateful for any help and advice you can give us.
Ann